SBA 504 Loan Program
---
What is an SBA 504 Loan?
The SBA 504 Loan Program provides companies a 10-percent down, fixed-rate, long-term loan designed to expand capital access. This program is about helping these businesses purchase the assets needed to take it to the next level: acquire new facilities or purchase equipment.
Typical Project Structure
10% Company Cash Down
50% Bank Financing
40% CDC Debenture
Projects are secured by a 1st and 2nd Deed of Trust/Mortgage on General and Special Purpose commercial real estate, meeting SBA qualifications, having a maximum aggregate Loan to Value between of 90%, depending on program parameters.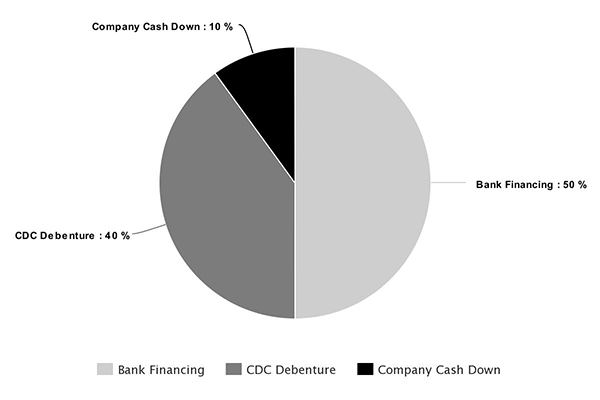 Program Eligibility
In order to qualify for the program, the borrower must meet the SBA's definition of small business and must plan to use over half (51%) of the property for its own operations within one year of ownership; if the building is to be newly constructed the borrower must use 60% at once and plan to occupy 80%. The borrower may form a real-estate holding company that lease 100% to the operating business, which then subleases surplus space (up to 49%). To qualify for this program, U.S. citizens or permanent residents must hold a majority of the ownership of the operating companies and the holding company.